Being that my entire life has changed this year already, I figured I might as well keep it going with a site revamp. I have moved to the opposite side of town and switched jobs, and while I am basically next door to where I worked previously, it is a much different environment and role- one I'm very excited about. So what have I been up to, aside from an insane transitional period? Plenty of creative work, actually (I'll sleep when I'm dead). Since I have slacked on blog posts for a while,  here's a little catch up on various things I've made. First, I decided that I wanted to make more origami squirrels, which starts with making squirrel paper (two colors of tissue paper sandwiched with tin foil and wallpaper glue, roll flat, let dry, cut into squares). Then I wanted to have enough squirrel paper that I could use it freely without being annoyed at running out. This resulted in kind of a ridiculous number of squirrels of various sizes and patterns such as this tiny guy: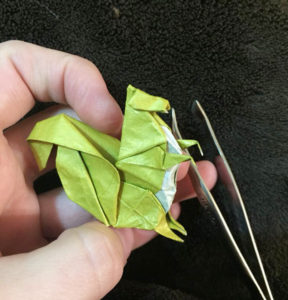 Then a friend wanted to commission some paper flowers for a lady. Valentine's Day was approaching, but this was more for her upcoming birthday of 25 years, and thus, I made 25 flowers involving mostly purple. They took a long time to create, and ultimately, I decided to just provide the assembled flowers without further decorating the bouquet, as apparently the cost of floral arrangement supplies can add up quickly. This allowed her to put her own finishing touches on the gift making it more personal. The woman it was gifted to is someone who enjoys origami also, and I am told she loved them. Of course, my original plan was grandiose, and at the time I finally snapped a photo, I was juggling a million things, in a hurry, and running out the door, but they still turned out nice (and hey, a bonus boop from my cat).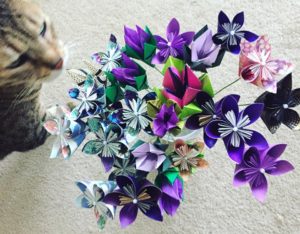 Another friend of mine was looking for something small-ish/affordable to gift a friend for her birthday. She told me that this friend of hers had a pet love bird that she adored. His name is Giacomo, and one day while he was out on the porch, he got spooked. He flew away and was lost for weeks. Then one day, a couple was walking home from a badger game, and Giacomo landed on one of their shoulders. As luck would have it, it happened to be the shoulder of another love bird owner. If nothing else, this was fortunate as they already had everything needed to care for him, understood the love for such a snuggly feathered friend, etc. plus, it's just a delightful coincidence. Having spread the word far and wide of her lost Giacomo, she was quickly reunited with her little dude. My friend, Misti, asked if maybe Giacomo could be also immortalized in paper. She showed me a very simple origami bird that she had googled, but I wasn't satisfied with the level of complexity. If we are to create this beloved bird out of paper, we should get down to the details and make it a proper paper twin of close resemblance, even if it takes a lot of time. If it were simple and rudimentary, then you could ask anyone to make it- she came to be for my folding abilities, so I don't want to disapoint. I searched my pile of books but didn't find anything that was very close. I searched online and found a design in Japanese by Hideo Komatsu. It looked more like a sparrow or junco, but I thought, I can modify that (and thus, make it more my own, much like using a WordPress theme and customizing it- ha). I found a digital version of the magazine/journal in which Komatsu's diagram was featured and printed the Japanese pdf. Thankfully, it was very easy to follow despite the language barrier (as Google Translate left much to be desired here).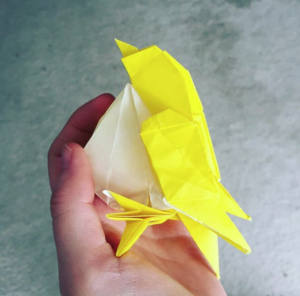 Several hours later, I was off to a great start with a fat-bellied "little bird" and 32 likes on Instagram. I couldn't figure out how I was going to incorporate Giacomo's defining characteristics, the main thing being his colors, aside from the shape. My first thought was to fold the bird, color or paint it, unfold the bird, and then have a good idea of what colors to put where for the next fresh sheet of paper. Then I could simply paint or color the paper, do the fold, and modify the beak, which is different than above. If you think this is starting to sound a little too convoluted, you're right. It didn't pan out that way. Sometimes you have to figure out the creative process during the process. I acquired a photo of the pet bird and tried to paint my next successful fold as closely as possible. Even then, I was worried that this was going to wind up looking like a child's art project, but I guess I'm my own worst critic. Ultimately, paper Giacomo turned out pretty well, was placed in a shadowbox frame, and was instantly recognized by the owner as "Giacomo immortalized in paper." https://tinyurl.com/ydz3fz7d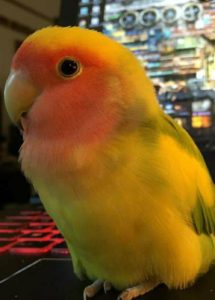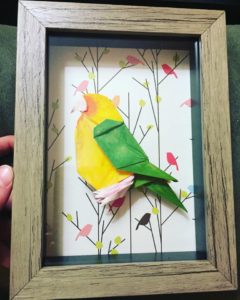 Anyway, I am so grateful to have been given the opportunity I have this year, as a Jr. Art Director at S&B. We have this awesome building and a fantastic team of people, and I get to do the things I love and nerd out about. I get to make shit, and I get to watch other talented people make cool shit also- it's a kind of like a circle of inspiration. Enjoying what you do for a living is huge, and it also leaves mental, physical, creative energy for the times outside of work sometimes, which is often not the case when you're just working your tail off at a job you tolerate. So I'll leave you with this Nick Offerman quote:
"Get a hobby or as I call it, "a discipline"…making things with your hands is not only NOT nerdy, but it's sexy…if you want to, like, up the delicious factor in your life, find out what you love to make, and it could be so many things – food, music…Whatever it is, whatever you love to do, that is the sexiest part of you. And it hits a button when you see somebody making something; it just hits that like nesting button of like, "Oh, you're knitting? Do you wanna like, make a nest and stuff?""